"FINALLY: A Done-For-You Kindle Formatting Tool So You Can Focus On Bringing In Passive Income!"
(and just for Kindle Case Study followers, the KCS Community Forum as well!)
Dear Friend:
You probably know how much money you can make from Kindle books.
Put simply, it ROCKS.
I (Rachel) haphazardly put a (quality) book up there last summer that's netting $2k/month in passive sales. Not all of my books are like that, but they're definitely racking up a very nice passive income.
Here's the thing: Amazon will either always be #1 or they'll spend millions of dollars trying. So publishing on the Kindle makes sense. There's tons of traffic to capitalize on.
But let's be honest – you probably know all of this.
If you're like many people, it could be the formatting that's holding you back.
I'm almost afraid to ask, but.. have you tried formatting your Kindle books yet?
Kindle Formatting Is EXCRUCIATING!
Here are just some of the issues with it:
You have to read through pages of 50-cent word language to understand how to even get started…
If you DON'T read everything, you will do it WRONG…
When you do it wrong, people will leave you HORRIBLE REVIEWS that impact your sales. And trust me…
People Are Not Afraid To Leave You
Horrible Reviews If Your Formatting Is Off.
PROOF:

Obviously if people knew how to format well, they would. Who wants bad reviews?
But It Is NOT Easy!
I ran a quick Google search for "kindle formatting sucks" and found thousands of results. Here are just a couple:


You can see that lots of people get bad reviews for formatting…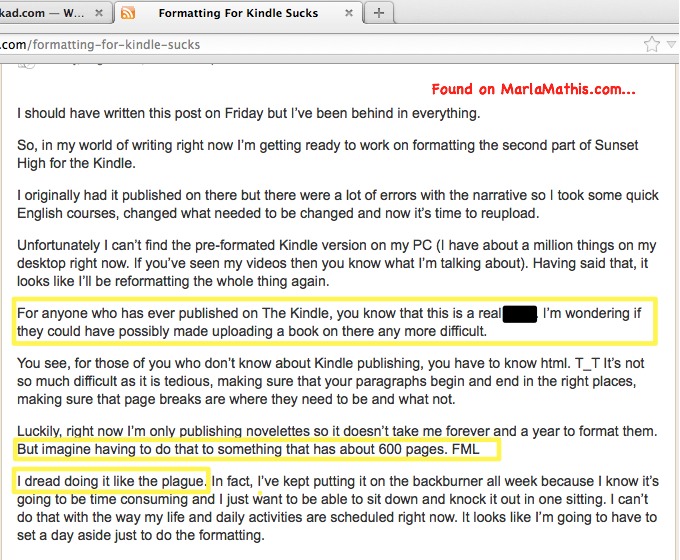 One woman dedicated an entire blog post to this problem.
…and that's just what I found from a quick Google search.
You can see that this isn't a 1-2-3 thing. She says that you need to know HTML, it's tedious, and if you do it wrong (which doesn't always show up in the Kindle preview tool)… you'll have no idea until you start getting bad reviews.
Awesome.  That alone will kill your book, perhaps permanently.
And The Tools Out There
Just Don't Always Work. 🙁
As of right now, the options on the market (like MobiPocket or Calibre) are pretty much DEAD.
MobiPocket hasn't been worked on since January 2009 – over THREE years ago.
And Amazon said themselves that the ONLY way to make your book future-proof is to use KindleGen (which nobody else is currently using — except us, but more on that in a minute).
Can you imagine going through the excruciating pain of formatting 10 books… only to find that in a month's time, you find yourself getting tons of bad reviews because Amazon changed their formatting algorithm again?
Ugh!
So Up Until Now
You've Had Three (Bad) Options:
Option 1: Use a BAD tool.
You could use a tool that does NOT work very well (if you're on a PC… prospects are bleak for Mac users).
The tools don't clean up books the way they should be cleaned up, so you'd be risking bad reviews.
And if you didn't get bad reviews now, you might get them later, when Amazon changes their Kindle formatting formula.
This also means you'd get stuck with surprise work to do down the line. (No thank you… I thought Kindle meant PASSIVE income!)
Option 2: Hire someone.
You could hire someone to format your book for you. There are people like this. The woman I know who does this is in FULL DEMAND because there are no better options. While that's great for her, what it means for YOU is that you need to pay $50 and upwards… and wait DAYS to have your book finished.
Option 3: Do nothing.
Sadly, many people get so discouraged about the formatting that they end up doing nothing.
It might sound extreme, but who wants to soil their reputation by getting bad reviews?
Not me, and I'm sure not you.
So doing nothing makes sense.
Luckily, We've Just Created
The Solution.
Introducing: Kinstant Formatter
Kinstant Formatter is the tool that will make your life MUCH easier.
In fact, we originally created it selfishly… because we got bad reviews ourselves and wanted to find a way to make it STOP.
This tool has been a lifesaver.
It's a WEB-BASED tool (no software to download or understand!) that you can use to simply upload your MS Word documents…. and presto, it converts things for you.
There's a very popular Kindle book on the market on how to format your books in an hour.  People buy it because it takes them much longer, and they want to know the secret of doing it that quickly…
With Kinstant Formatter, you can cut that hour (that people lust after) down to about… oh, maybe a minute! 🙂
"What Do I Get?"
Bottom line: You're getting a deal…
Here's why…I've seen firsthand how much money you can earn with quality Kindle books.
I've also seen firsthand how much money you can LOSE when the bad reviews about formatting start pouring in.
Now you're basically eliminating any formatting-based bad reviews so that customers can just luxuriate in your great content
Kinstant Formatter does all of this:
Eliminates the frustrating and weird page breaking on black and white Kindles… THANK GOD! (There are so many negative reviews because of this…)
Bullets look FAR better than usual…
Pictures work beautifully… (this was a MAJOR complaint of other tools…)
You can remove all tabs (which look horrible on Kindle)…
Your readers' first impression, the Table Of Contents, is created in a breeze…. (with up to THREE levels per T.O.C.!)
Get premium level support that you simply cannot get from the open source stuff out there…
Future-proof all of your books… do the work ONCE and only ONLY… because Kinstant Formatter is using the ONLY tool Amazon has promised will work indefinitely…
As soon as you upload your file, it's deleted by the server (we'll never see what you create)….
PRIVACY: Because we delete everything immediately, we have no idea what books you're uploading.

…and get it ALL done EXTREMELY QUICKLY with the done-for-you, web based tool!
I'm positive this is the BEST thing you could do to get your books formatted right.
And I imagine you'll be pleasantly shocked when you see the price.
"Why Are You Pricing This So Low?"
Here's the deal…
You can either spend hours formatting the book yourself. On the low end, let's say you make $10/hour and it takes you 2 hours per book. That's $20 a pop… not to mention lost opportunity cost of what you could be spending your time on.
You'll probably also get so frustrated at how tedious the whole process is that you'll get cranky, your frustration will bleed into the rest of your day, and you probably won't get as much done as you normally could.
It sounds dramatic, but it's true. Think back to a time you've had to do painstaking, tedious, drudgery. How did you feel?!
So if you come up with 10 books a year and do it yourself, you're losing $200 (on the low end), opportunity costs, and bad days.
On the other hand, you can hire someone. That'll cost you $50 or so a pop, plus you'll have to wait days to get your book returned.
So if you hire someone to do 10 books a year, you're losing $500 plus weeks of time.
You could grab some of the other software on the market… but since it doesn't work well, and Amazon already said it's not guaranteed to work forever… that would be an even WORSE option. If you do that, you're opening yourself up to bad reviews down the line, plus surprise work (you'll have to re-format everything later on… and Murphy's Law says you'll find out about this on a day you have far too much to do anyway.)
With all that said… you probably see that we have the "tool du jour". The no-brainer tool that will simplify your life by a LOT.
We could easily charge $97 or so for this. It would DEFINITELY be fair.
Here's why:
– You get this tool, which would cost thousands of dollars to custom-develop
– It'll end up making you WAY more profits if you use it consistently…
– AND! You can use it on unlimited books!
But instead…
You Get to Format 100 Times For $37, PLUS…
Note: you can format your own books, or you can do those of others.  You can even run a service and charge for it.
Whether you charge a very cheap $5 per format on Fiverr, or charge $20 or more like others do, or whether you just use this awesome tool to format your own books, saving you countless hours, it's up to you.
One formatting job will consume 1 credit, and your account comes with 100 credits, which expire after exactly 12 months (no rollovers). When your account runs low, you can replenish your credits at any time, and we even have bulk purchase deals where you can get credits for less than 6 cents each!
"What!? Let me order right now!"
Yep… just $37.
PLUS A BONUS (for KCS followers only)
If you're following the Kindle Case Study, you know that I've mentioned the coming community forum.  It was designed because of popular demand (not planned in advance as an upsell), so that you could belong to a closed community and get special services.
Things like the ability to review other's books and have them review yours (in ethical ways of course, not anything that will violate Amazon terms of service)… like being able to promote your books' free days… like being able to ask and receive answers about things that are mysterious to you, even beyond the scope of the case study… like questions about other platforms besides Amazon's.
And much more, limited only to your imagination.
It is after all, your community.  You can rub shoulders with successful authors, as well as up and coming beginning authors.
You never know, one of our members might have his or her book turned into a movie or promoted on a major TV network, and you'll be in their network of influence.
Why are we pricing this so low?
1. The main reason is that, like with all of our products, we price everything to over deliver. We aim to give you a HUGE bargain every time you buy from us. Not only does it help us sleep at night, but it makes financial sense too. When you make more money with your online endeavors, and you can trace it back to us helping you…. you're obviously going to tell people about us and buy from us again.
2.  Plus, I appreciate the fact that you're in the Kindle Case Study, and want to give you even more services to help you succeed.
I'm Going To Make This Even Easier For You…
You Get A 30 Day "Love It Or Get Your Money Back"
Guarantee
If you don't love our products, we really don't want your money…
Yep, you read that right…
I would rather you be happy than have your money…I enjoy traveling, meeting new people, and exploring all sorts of random things so I'm not really concerned with keeping your small investment if you're not happy with this product. I know you will be but if not, that's cool you'll get your money back ASAP!…That's The Bottom Line!
So if you're not happy, you've got 30 days to tell me and I'll refund your tiny investment within 24 hours.
Of course that means you'll lose access to both the community and the formatter, each of which is worth more than what we're charging, I hope you agree.  So…
Alright…it's now time to take action…
Here's What You
Need To Do Now:
Remember – this price is only available for a LIMITED TIME.
So the next steps are very simple.
You're going to get everything within 60 seconds (or less) after purchasing.
You'll get everything… no waiting!
By the end of the day, you could have one, two, or MORE Kindle books uploaded and ready for sales.

So, click on the "ADD TO CART" button below and secure your best possible price.….
IMPORTANT: If you've previously registered a lifetime personal account for Kinstant Formatter (no longer available), be sure to use a different email address for this one, otherwise this new 100-credit account will replace your prior lifetime account.
With love,
Rachel Rofe, Dennis Becker, and Steve Henty
P.P.S. If you're interested I highly suggest you sign up right now. The price of this is ABSOLUTELY going up, so the faster you move, the better the price you'll get.